Supermicro® Releases a new line of All-Flash NVMe and SSD-based Super Servers Solutions Optimized for Enterprise, Data Center and Cloud-Scale.
These solutions address the growing demands for consistent high IOPS, greater compute, memory and storage density for Tier one mission critical applications. Supermicro's latest NVMe Virtual SAN Ready Node SuperServer® delivers the industry's highest performance and density in a 1U Ultra 10x NVMe solution (SYS-1028U-VSNF Series) scalable for Enterprise, Data Center and Cloud-scale deployments. The 2U Ultra 24x NVMe SuperServer® (SYS-2028U-TN24RT+) increases hot-swap NVMe density and even higher density configurations up to 24x 2.5" hot-swap NVMe per 1U are available. In addition, two new 2U all-flash SSD based Virtual SAN Ready Node solutions in Ultra (SYS-2028U-VSNF series) and TwinPro™ (SYS-2028TP-VSNF series) architectures support up to 480 virtual machines in 4 nodes.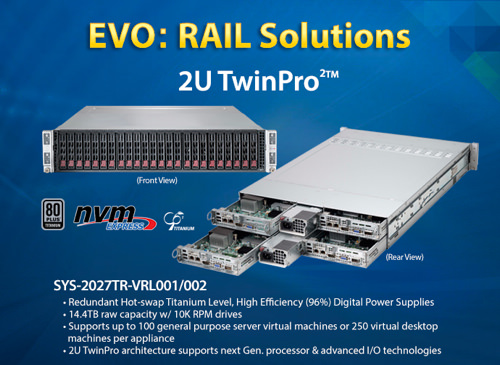 Large Bandwidth and Latency Improvements with True Hot-Swap Capability:
The primary benefits of Supermicro SuperServer® solutions with NVMe support include improved performance (throughput and latency), hot-swap capability, ability to support many true hot-swap NVMe drives per server, cost-effectiveness compared to add-on card based solutions, and availability of many cost-optimized models from which to choose. Supermicro is the first to market with true hot-swap support for NVMe SSD drives. This feature allows easy addition of storage capacity through the addition of SSDs, the replacement of existing SSDs with higher capacity units, or replacement of failed drives, while the server system is in operation. Additionally, the hot-swap feature protects against surprise removals, random device failures, or operator errors. Software hardening from Supermicro on its NVMe server product line provides an excellent protection against these all too-common data center issues.

The SuperServers are optimized for data intensive workloads and Virtual SAN Ready Node applications delivers extreme performance, density and scalability surpassing the demands of Tier one mission critical applications.
Within the new solutions:
Solution:
Form:
Highlight:
10x All-Flash NVMe Virtual SAN Ready Node
1U
(SYS-1028U-VSNF Series) – 10x hot-swap 2.5" NVMe SSDs, dual Intel® Xeon® E5-2670 v3 processors, 384GB DDR4 in 24x DIMMs, 16GB SLC SATADOM, quad 10GbE ports
Ultra All-Flash SSD Virtual SAN Ready Node
2U
(SYS-2028U-VSNF Series) – 24x hot-swap 2.5" SSDs, dual Intel® Xeon® E5-2680 v3 processors, 384GB DDR4 in 24x DIMMs, 16GB SLC SATADOM, quad 10GbE ports
4-Node TwinPro™ All-Flash SSD Virtual SAN Ready Node
2U
(SYS-2028TP-VSNF Series) – 24x hot-swap 2.5" SSDs, each node supporting dual Intel® Xeon® E5-2670 v3 processors, 256GB DDR4 in 24x DIMMs, 16GB SLC SATADOM, dual 10GbE and 1GbE ports
24x NVMe SuperServer®
2U
(SYS-2028U-TN24RT+) – Supports dual Intel® Xeon® processor E5-2600 v3, up to 1.5TB ECC, up to DDR4 2133MHz in 24x DIMMs, 2x PCI-E 3.0 x16 slots (FH 10.5″ L), 1x PCI-E 3.0 x8 slot (LP), 2x 10GBase-T ports, 24+2 x 2.5″ hot-swap drive bays, 24x NVMe ports (12x NVMe from CPU 1, 12x NVMe from CPU 2 – 4x hybrid ports for optional SAS3/SATA3), 2x SATA3 (rear IO), 1600W Redundant Titanium Level (96%) Power Supplies
TwinPro²™ EVO:RAIL MAX
2U
(SYS-2028TP-VRLX Series) – Supermicro's EVO:RAIL MAX appliance is a complete Hyper-converged Infrastructure Appliance. It maximizes compute, memory, storage and networking resources into a single 2U, 4-node form factor to create a simple, easy-to-deploy building block for the Software-Defined Data Center (SDDC). TwinPro² architecture supporting maximized CPU, memory, SSD, NVMe and 10GbE NIC ports offers the industry's most optimized solution for VMware's hyper-converged infrastructure appliance. Configurations support 200-400 VMs.
FatTwin™
4U
(SYS-F628R3-RC0BPT+) – NVMe enabled Virtual SAN (VSAN) Solution – 4x hot-plug nodes each supporting dual Intel® Xeon® processor E5-2600 v3, up to 1TB ECC DDR4 2133MHz in 16x DIMMs, 8x 3.5″ hot-swap HDDs per U, 8x SAS3 12Gb/s or 6x SAS3 + 2x NVMe HDDs, 1x PCI-E 3.0 x16 (LP), 1x PCI-E 3.0 x8 (Micro Low Profile) 2x 10GBase-T ports, IPMI 2.0 remote server management with dedicated LAN port, 1280W Redundant Platinum Level High-Efficiency (95%) Power Supplies
NVMe SuperBlade®
7U
42/30 hot-plug NVMe per 7U, 2x 10GbE, FCoE, or 56Gb/s FDR IB switches, 2x 1Gb/10GbE switches,  redundant chassis management modules, redundant (N+N or N+1) Platinum (96% efficiency) power supplies.

SBI-7128R-C6N with 6 hot-plug drives (6x 12 Gb/s SAS3 or 3x NVMe + 3x SAS3), supporting dual Intel® Xeon® E5-2600 v3 (up to 160W) and up to 1TB DDR4 memory. VMware ESXi 6.0 certified and optimized for VSAN applications.
SBI-7428R-C3N with 3 hot-plug drives (NVMe or 12Gb/s SAS3), supporting dual Intel® Xeon® E5-2600 v3 (up to 145W) and up to 512GB DDR4 memory. VMware ESXi 6.0 certified
SBI-7428R-T3N with 3 hot-plug drives (NVMe or 6Gb/s SATA3), supporting dual Intel® Xeon® E5-2600 v3 (up to 145W) and up to 512GB DDR4 memory. VMware ESXi 6.0 certified