Server Quality Gaming Solutions
Leveraging server-grade designs and components to deliver industry leading durability, stability and performance

PCB
A high quality woven E-glass coated with epoxy resin PCB material delivers superior signal integrity and results in exceptional stability, especially under overclocking conditions.

Ceramic Chip Capacitors
Top grade X5R or X7R class ceramic chip capacitors are used exclusively throughout, up to several hundred per motherboard. The result is enhanced overall signal stability even under challenging thermal conditions.

Capacitors
Integrating only the best Japanese NPCAP solid state capacitors that feature super low ESR, longer lifecycle, and outstanding ripple rejection; motherboard stability even under extreme temperatures is dramatically increased.

Connectivity
Features 15µ gold plating that is 7.5X thicker than the standard design of 2µ on PCI-E sockets, connectors, and CPU sockets which delivers the absolute best connection integrity between devices.

Validation
Supermicro exposes all hardware to an intensive suite of stress tests, including extreme workload, type of task, memory use, thermal load, clock speed, and voltages.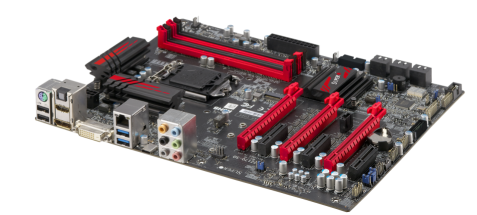 Core Gaming Z170
Supermicro engineered the Core Gaming Z170 series to deliver a high performance motherboard for the most discerning gamers with features even professionals will appreciate. Architected for reliability and performance, the Core Gaming Z170 perfectly blends enthusiast-grade overclocking with components and designs which have traditionally been found only in server-class products.

Discrete Base Clock
Integrating a discrete Base Clock (BCLK) generator allows a full range of frequency adjustments from 100 MHz to 200+ MHz in 1 MHz increments, overclocking is no longer limited by BCLK Straps.

Power Delivery
The combination of Digital PWM's, DrMOS, and Ferrite Chokes provides Supermicro motherboards with highest power efficiency, which results in cooler motherboard operation and significantly better power stability for overclocking.

Diagnostic LED / Onboard Buttons
Equipping the essential tools -- Debug LED, Power, Clear CMOS, and BIOS restore buttons on the motherboard can significantly simplify and expedite the process of maximizing performance.

USB 3.1 Type C
Featuring the latest USB technology, the USB 3.1 type C is a reversible-plug connector that can support up to 10Gb/s transfer rates (2X faster than USB 3.0).

M.2 x4
Supporting the latest M.2 that utilizes PCI-E 3.0 x 4 interfaces to deliver the maximum throughput up to 4000MB/s, up to 6.67X faster than SATA 3 interfaces.

UEFI BIOS
The new and improved Supermicro UEFI BIOS offers an intuitive, easy-to-navigate, and responsive interface with all the key settings needed to unleash your PC's best performance.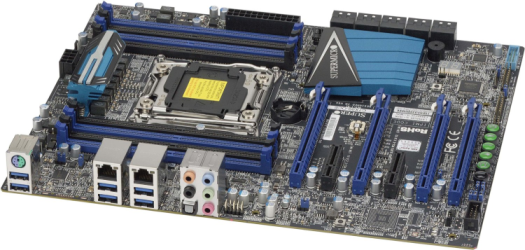 The Pro Gaming X99 motherboards from Supermicro are designed for extreme gamers who crave the highest performance from their gaming rigs. With Supermicro's server quality, these motherboards are optimized to provide the highest magnitudes of overclocking performance that is perfectly balanced with greatest level of stability, ideal for the Pro Gamer.

Cross-platform CPU support
Our highest-performance ATX motherboard offers cross-platform support with Intel® 4th generation Core i7 Extreme Processor and Xeon® E5-2600 v3, E5-1600 v3 (LGA 2011) processors.

40 PCI-E Lanes
The Pro Gaming X99 motherboards are SLI ready and can support up to three double-width GPUs at x16/16/8 bandwidth.

Diagnostic LED / Onboard Buttons
Equipped with the essential tools -- Debug LED, Power, Clear CMOS, and BIOS restore buttons conveniently located right on the motherboard - you can significantly speed up the tuning process for the very highest performance.
Three One-touch overclocking buttons provide quick and easy processor speed adjustment: OC Button 1: 15% / OC Button 2: 20~25% / OC Button 3: User defined

Dual Gbit LAN Ports
The Intel i210AT based server-grade LAN controller offers low power consumption, low CPU utilization and high UDP/TDP throughput, making it ideal for extreme gaming

Memory Overclocking
The Memory overclocking button allows you to increase memory performance with one touch. For expert users, full feature BIOS options are available for manual tweaking for overclocking up to 3300MHz.

IPMI
The Intelligent Platform Management Interface allows the user to monitor and manage their gaming system if powered off or unresponsive, by using a dedicated network connection to the hardware. Available on C7X99-OCE-F, IPMI is a valuable resource to optimize performance and minimize downtime.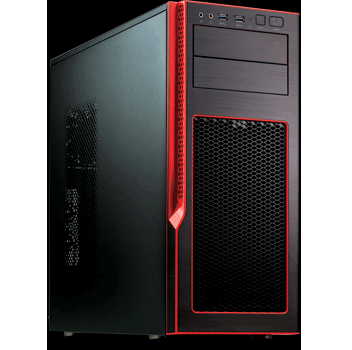 The S5 is a precisely crafted chassis marrying classic simplicity and modern functionality, ideal for high performance gaming systems and workstations.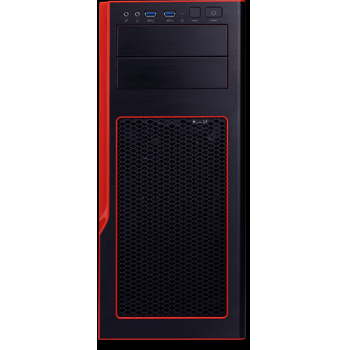 Simple and Elegant
Black anodized brushed aluminum fascia front panel with two USB 3.0 ports
Compact Design
Only 7.9"(W) x 18.1"(H) x 19.4"(D)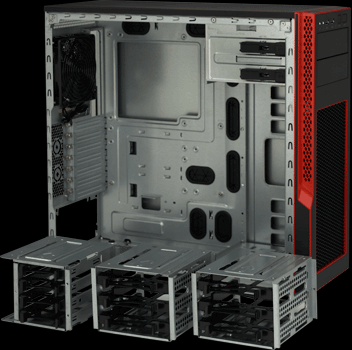 Modular Driver Cages
Removable 3.5" and 2.5" HDD/SSD cages with tool-less trays for up to 10 drives
Easy-Access
Tool-less installations on 5.25",
3.5" and 2.5" drives
Clean Builds
Cable management holes with rubber grommets
PWM Fans
3x 120mm PWM high airflow fans included
Cooling Potential
Nine fan mounting locations; support up to 240mm closed-loop water cooling kits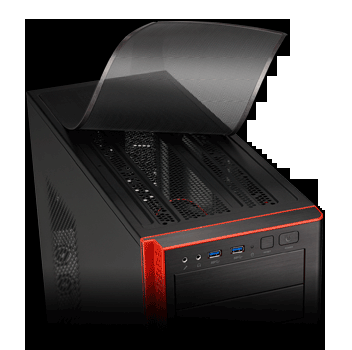 Dust Filters
The Memory overclocking button allows you to increase memory performance with one touch. For expert users, full feature BIOS options are available for manual tweaking for overclocking up to 3300MHz.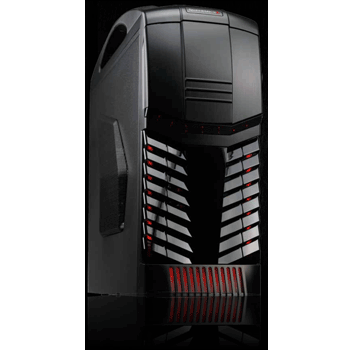 The 732G mid-tower gaming chassis extends Supermicro's strong server foundation into the gaming market space. The 732G high-quality 0.8mm SGCC steel construction case has a metal mesh side panel window, and with optional blue/orange/purple LED light strip on the side, makes it a hit at any LAN party.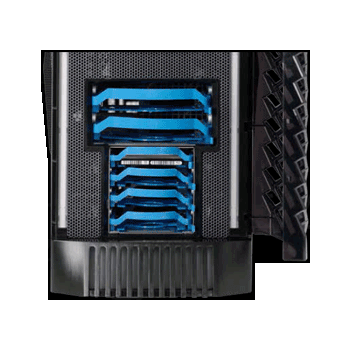 Hot-swappable Bays:
3x Internal 3.5" bays
2x External 3.5" bays
4x External 2.5" bays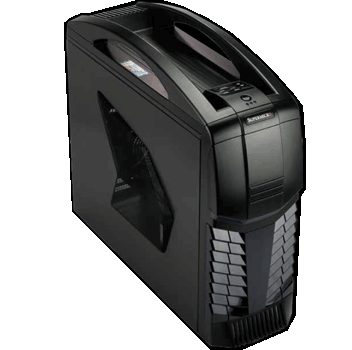 Rich front I/O support:
2x USB 3.0 ports
2x USB 2.0 ports
2x audio ports
1x eSATA port
Heavy-Duty Handles
2 large and heavy-duty handles on the top of the chassis for ease of transportation.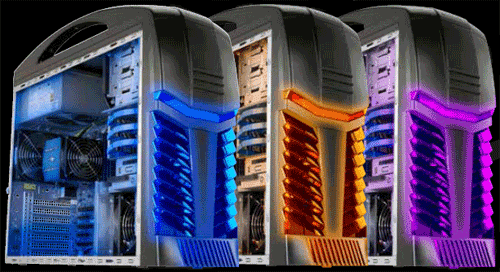 Optional Tri-color LED
Optional Blue, Orange and Purple LED that can shine through the front bezel for you to personalize the chassis.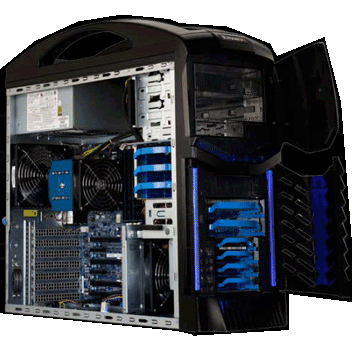 Supports E-ATX form factor
Even though 732G is only a mid-tower, it has enough to support even E-ATX form factor, single processor or dual processors, motherboards.
PWM Fans
2x 120mm PWM high performance fans included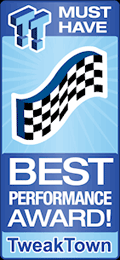 Tweak Town
C7X99-OCE WinsTweakTown Best Performance Award
"If you are looking for a motherboard with features and design practices used in high quality server boards with outstanding performance and the ability to overclock, then the C7X99-OCE is the right board for you.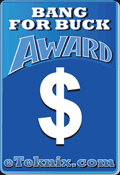 eTeknix.com
eTeknix.com gives Supermicro S5 Bang For Buck Award
"Whether you need a reliable and versatile case for at home, or in the office, the S5 has got you covered. This is a good all-round product that would make a solid gaming system or even a workstation that required a lot of drive bays. Let's hope Supermicro continue to develop their new range, as they're already off to a great start."