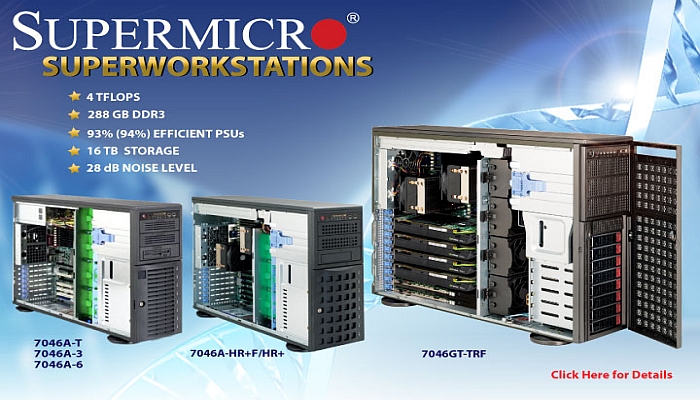 Supermicro Super Workstations for every need: Entry level to Mission Critical Applications
Supermicro's Whisper-Quiet family of SuperWorkstations feature state-of-the-art designs demonstrating acoustically optimized thermal engineering. All major system components such as high efficiency power supply, processor and chipset, memory, heat sinks, fans, chassis, materials and layout- are tuned to produce sound levels reaching as low as 28 dB, or the equivalent of a quiet library environment. The system also utilizes special software to produce optimum cooling and low sound levels across all CPU loads and speeds.
Supermicro's Power Management Technologies
Supermicro's Whisper-Quiet Workstations employ specially developed power and thermal management technologies in multiple levels to manage temperature and sound levels. Several of these advances are as follows:
Motherboards Designed With Leading-Edge Memory Sensing Technology support 1.5V FB-DIMM memory with Intel 5400 (Seaburg) chipsets, or DDR2 Reg. ECC memory matched with Intel 5100 (San Clemente) chipsets to optimize power usage.
High Efficiency Power Supplies architected to eliminate waste. Instead of the typical efficiencies of 70%, Supermicro's workstation power supplies run at significantly higher efficiency levels up to 88%, greatly reducing energy losses.
Advanced Technology Heat Sinks employed to provide maximal cooling of critical components, leading to better overall system performance.
Pulse-Width Modulated Fan Control of the system fans, resulting in lower speed operation and lower sound levels while still maintaining proper cooling, while increasing reliability.
Internal Airflow Design architected to produce optimal cooling of all components.
BIOS (Basic Input/Output System) that intelligently monitors the Whisper-Quiet SuperWorkstation operation, detecting and utilizing temperature sensor information to continuously control fan speed to produce optimal cooling of all components across all fan speeds.
System Architecture created to take advantage of all the Supermicro power management technologies synergistically to produce optimal cooling and low sound levels at all application levels.