Fully Optimized Workstations & SERVERS for Professional
Built for Green and TCO optimization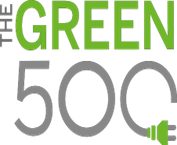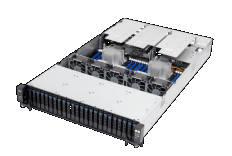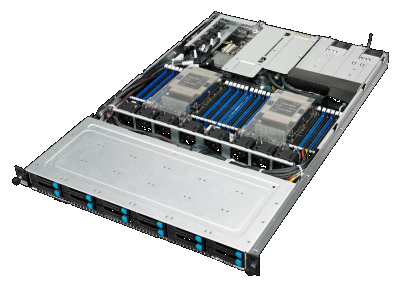 High Performance 1U cache Server with 24 DIMMs and 12 drive bays
Target Market :

HPC ,Cloud Computing
Data Center
Virtualization application

Rack-optimized Placement

Optimized cooling efficiency, up to 165W CPU with 24 DIMMs
One CPU supports Omni-Path Architecture (OPA)

3+1 Expandability

3 x PCI-E Gen3 slots in 1U system
OCP 0 Mezzanine 10G /25G /100G LAN Card supported

Platinum-level Efficiency
Additional Storage for OS

Dual 2(NGFF)
Internal USB Type A Connector

Enhance Usability

Front USB (RS700-E9-RS4)
Diagnostic indicators
Tool-less rail kit

Server Management Solution

Onboard ASMB9-iKVM module for out-of-band management
In-band ASUS Control Center (ASWM Enterprise 2.0) provides efficient one-on-many management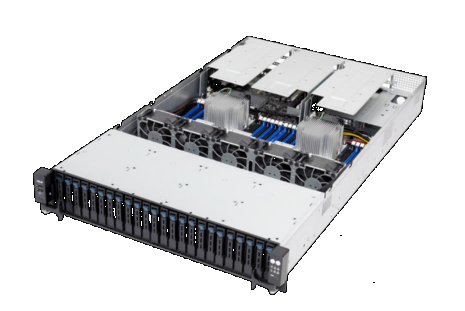 2U Storage server with 24 DIMMs and 24 Drives
Target Market :

HPC ,Cloud Computing
Data Center
Virtualization application

Rack-optimized Placement

Optimized cooling efficiency, up to 205W CPU with 24 DIMMs
One CPU supports Omni-Path Architecture (OPA)

8+1 Expandability

8 x PCI-E Gen3 slots in 2U system
OCP 0 Mezzanine 10G /25G /100G LAN Card supported

Platinum-level Efficiency
Additional Storage for OS
Enhance Usability

Front USB
Visible Port 80 from Outside
Tool-less rail kit

Server Management Solution

Onboard ASMB9-iKVM module for out-of-band management
In-band ASUS Control Center (ASWM Enterprise 2.0) Provides
Efficient One-on-many Management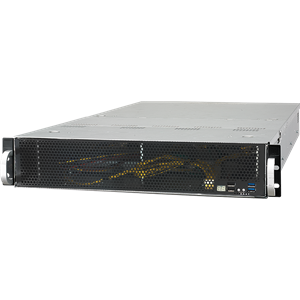 High performance 2U accelerator server with 16 DIMMs and flexible expansion
Target market

HPC, Scientific & Research, Render farm,
Cloud Gaming

Flexible Choice on Versatile Accelerators

Supports up to 4 double-deck Server GPUs & Desktop GPUs founders edition in 2U
Diverse VGA support including NV GeForce, Tesla, GRID, AMD and Intel

8 + 3 Flexible Expansions in2U

Support up to 8 x full-height & full-length add-on cards
2 for LP LP/HL add-on cards
1 for Low-profile HBA/ASUS proprietary interconnection cards

Optimized Thermal Design

Crossover GPU fan Hot swap placement

High Power Efficiency

1+1 redundant1600W 80Plus(Platinum level) power supply

High Density Transmission

Support Embedded Omni-Path 100Gbps Fabric
OCuLink for NVMe*2
2 X 2.5″ NVMe
Leading AI and Visual Computing for Desk & Cloud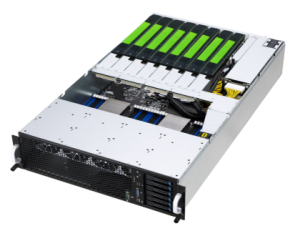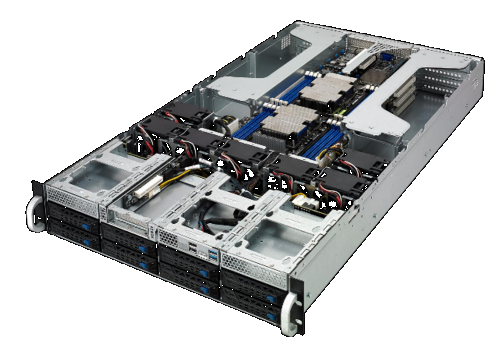 High performance 2U accelerator server with 16 DIMMs and 8 hot-swap HDD bays
Target market

HPC, Scientific & Research, Render farm,
Cloud Gaming

Flexible Choice on Versatile Accelerators

Supports up to 4 double-deck Server GPUs & Desktop GPUs founders edition in 2U
Diverse VGA support including NV GeForce, Tesla, GRID, AMD and Intel

8 + 3 Flexible Expansions in2U

Support up to 8 x full-height & full-length add-on cards
2 for LP LP/HL add-on cards
1 for Low-profile HBA/ASUS proprietary interconnection cards

Optimized Thermal Design

Crossover GPU fan Hot swap placement

High Power Efficiency

1+1 redundant1600W 80Plus(Platinum level) power supply

High Density Transmission

Support Embedded Omni-Path 100Gbps Fabric
OCuLink for NVMe*2

HDD Capacity : 8 x 3.5"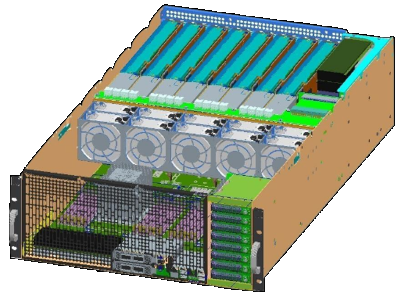 Ultra-high density solution in 4U system
High Density, Hybrid Computing Power
Supports up to 8 double-deck Server GPUs & Desktop GPUs founders edition in 4U
Maximum GPU utilizations for demanding computing power
Flexible SKU transform
PCI-E slots can config by CPU1 or CPU2
PCI-E lanes topology across PLX PCI-E switch can config by SW
Optimized Thermal Design
Crossover GPU fan Hot swap placement
High Speed Transmission
-Support Embedded Omni-Path 100Gbps Fabric
Scalable Expansion Capability
8 * PCI-E Gen3 x16 slots for FH/FL add-on cards
2 * PCI-E Gen3 x16 slots for LP/HL add-on cards
1 * PCI-E Gen3 x8 slot for Low-profile HBA/ASUS proprietary interconnection cards
Fully Optimized Workstation for Professional Content Creators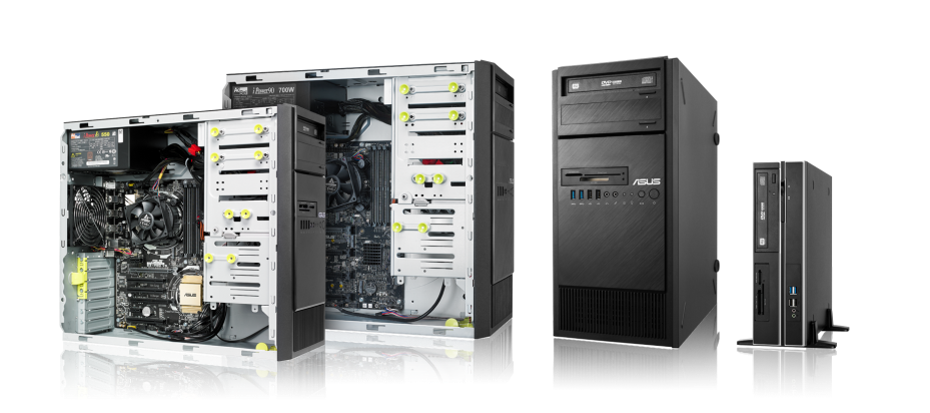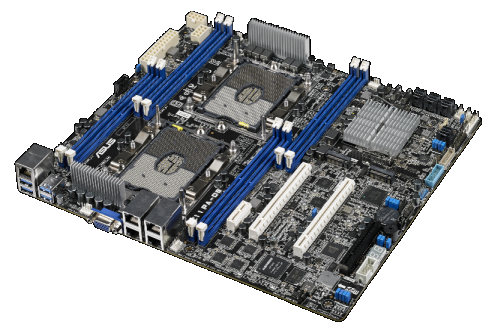 Dual Skylake SP, 8 DDR4 PIKE II, Oculink for NVMe , embedded BMC,
Target Audience:

SMB Group Server
Print/File/ Mail Server & Entry Storge Server
Feature-rich Design in CEB size with ATX footprint

Standard ATX Mounting Hole Location –Fit into ATX Case

Various storage expendabilities

Dual M.2(NGFF), Up 22110, capacity up to 2TB
UP to 16 on-board SATA 6G Ports

MOS + Beat Thermal Choke

Lower VR Temperature
Increase VR Efficiency

REDFISH + KVM-over-IP enabled by ASMB9-iKVM

Remote update BIOS for saving time & efforts
Standalone KVM/Java utility to simplify remote control process
Auto video recording for easily trouble-shooting

Up-to-date Intel Architecture Supported

Dual Intel® Xeon® E5-2600 V5 (Skylake-SP)
8 DIMMs (support up to DDR4-2666 Memory)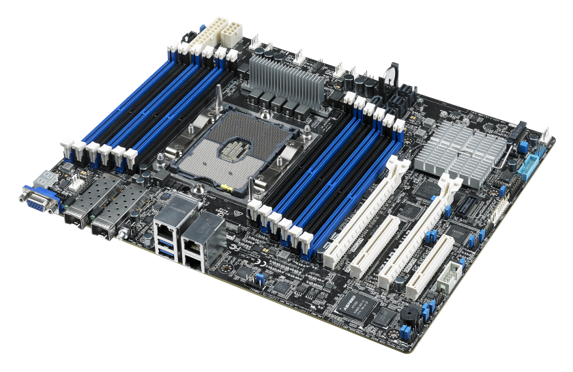 Single Skylake SP, 12 DDR4, 10G, PIKE II, Oculink for NVMe, embedded BMC
Target Audience:

SMB Group Server; Print/File/Mail Server; Entry Storage Server

Maximum 12 DIMM slot

Huge memory capacity in UP Serverboard

High-speed Ethernet connection

Dual 10G SFP+ (With C622 SKU)

NVME Support

OCULINK *2 for fastest storage interface

ATX Size, EEB Mounting Hole Locations

Fit in PC chassis, rank and tower system

2(NGFF) connector
ASMB9 down-to-MB

Network bonding supported – Failover
Virtual media over LAN – Multiple device

Support overclocking (TBD)

Ai Overclock Tuner and Xeon Turbo Charger in the BIOS are dedicated to boosting the CPU's overclocking performance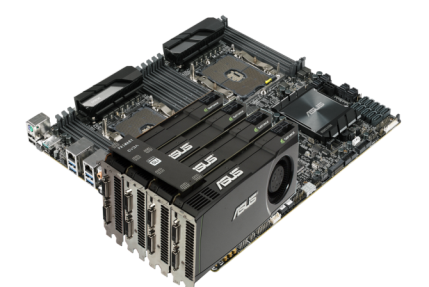 Up to 4-Way Nvidia® SLI® and AMD® CrossFireX™ support on demand
Target Audience:

Engineers & Scientist
Animation/Digital content creator

EXtreme Power

Up to 4-Way Nvidia® SLI® and AMD® CrossFireX™ support on demand.
Validated with diverse GPUs from AMD and NVidia.
Intel Virtual RAID on CPU supported
Supports up to 12 DDR4 LRDIMM/RDIMM

Two-way XEON CPU extreme performance

Supports dual CPU, providing more cores, and more processing power.
Provides extreme performance with 2-way Xeon O.C.
Reliable and Stable
Supporting server-class Intel XEON CPU and Error-correcting code (ECC) memory.
Protect your graphic investment with ASUS SafeSlot
ProCool Power connecter, Beat thermal choke, Dr MOS, and Digi+ VRM for the platinum efficiency

Expandable and Scalable

Providing many feature enhancement with  plentiful connectivity, with U.2, M.2 connectors, dual Gb LAN, USB 3.1 Type-C & Type-A onboard.
Management and Maintenance
BIOS Flashback for EZ, quick update of BIOS
Asus Control Center (ACC) Management supported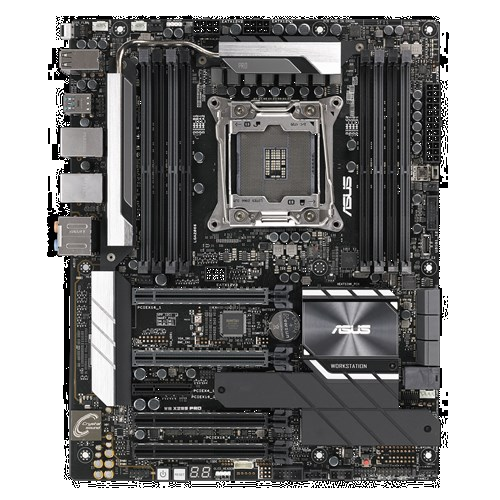 Best optimized design for overclockable HCC processors
Target Audience:

Animation/Digital Content Creator
Gaming Enthusiasts

Best optimized design for overclockable HCC processors


Heatsink designed wit h multi-fin and heatpipe, tremendously increasing surface area for heat dissipation.
ASUS ProCool Connectores providing enough power wattage and keeping connectors cool
5-Way Optimization – With one click, the whole system is optimized for best CPU performance, power saving, digital power control, system cooling and app usages.
Designed with ASUS PRO Clock technology extending CPU and Memory OC Power

Up to 3-way graphic power supported by ASUS Safeslot


3 PCIe Gen3 x16 slot supporting up to 3-Way AMD® CrossFireX™ and Nvidia® SLI® on demand.

Ultra-fast storage and IO options to choose


Onboard 2x M.2 slot with M.2 heatsink for optimum cooling.
32 Gb/s 2.5"SSD supported by onboard U.2 port
USB 3.1 Gen2 Type-A and Type-C rear ports and future proof USB 3.1 Gen 2 front panel connector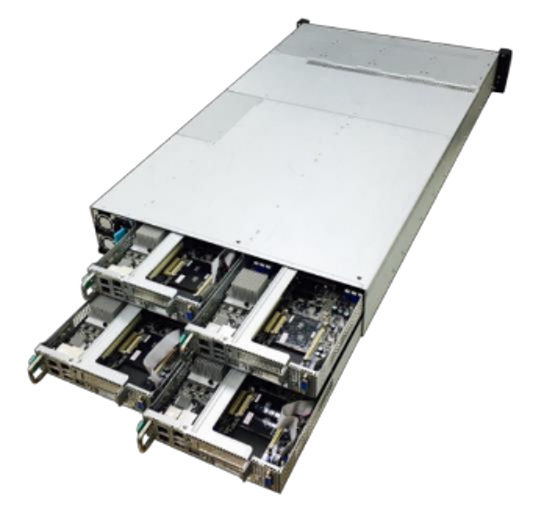 High Density Computing for HPC Applications
Massive Storage Capacity

8 x 2.5" Hot-swap HDD Bays  (8 NVMe Supported).

High Power Efficiency

1 + 1 1600/2200W80 PLUS Platinum CRPS

Modular Design for Independent Maintenance

3+1 Expansions in 1U
Future Dual Intel® Xeon® processor Skylake EP family
OCP 2.0 Mezzanine (Mezzanine ((Gen3  x16 link)
Omni Path Fabric Support (CPU2)
NVMe Convert Kit
Dual M.2
Visible Q-Code
SD Card Support
1 x PCI-E x16 (Gen3 x16 Link(
More Cores :

–

   UP to 32c/64t


Up to 50% more core and VM density vs mid-bin E5
More Memories: 

–  8 Channels (2 DPC) 
33% more bandwidth and capacity than E5.
MORE PCIe

–

 128 Lanes

2P worth of I/O In a 1P 
SoC 
– No Chipset or PCH
Superior Security
– SME/SEV
Full memory encryption
VM isolation/protection
No application changes required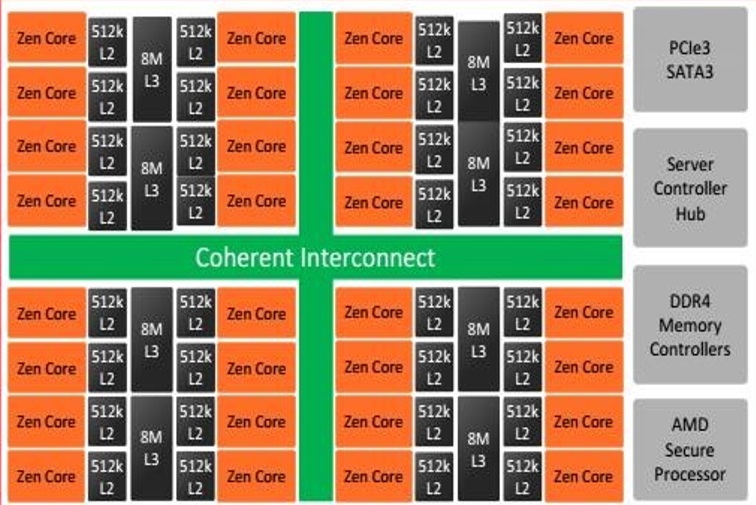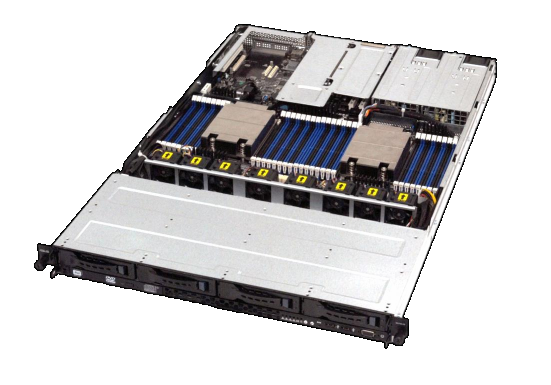 Target Market :

HPC, Cloud Computing
Memory Cache
Virtualization Application

Rack-optimized Placement

Optimized Cooling Efficiency

Up-to-date AMD Architecture and Technology

Industry-leading Core Density – Up to 64 Cores
Best-in-class Memory Bandwidth and Capacity
32DIMMs, 16 Channels DDR4
Integrated I/O – No Chipset

3+1  Expandability

3x PCI-E Gen3 Slots in 1U System
OCP Mezzanine 0 10G/25G/100G LAN Card Support

Additional Storage for OS
User-Friendly Design

Visible Q-Code from Outside
Tool-Less Rail Kit

Server Management Solution

Onboard ASMB9-iKVM for Out-of-Band Management
In-band ASUS Control Center Provides Efficient Centralized Management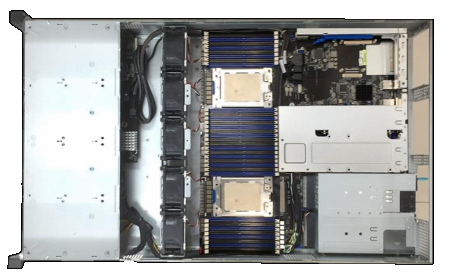 Target Market :

Cloud Tier-0 or Tier-1 Hot Data Cache Server
Enterprise Storage
Virtualized Storage

Rack-optimized Placement

Optimized Cooling Efficiency

Up-to-date AMD Architecture and Technology

Industry-leading Core Density – Up to 64 Cores
Best-in-class Memory Bandwidth and Capacity
32 DIMMs, 16 Channels DDR4
Integrated I/O – No Chipset

8+1 Expandability

Default 7(x8) + 1(x16) x PCIe 0 Slots
OCP Mezzanine 0 10G/25G/100G LAN Card Support

Additional Storage for OS
User-Friendly Design

Front USB
Visible Q-Code from Outside
Tool-Less Rail Kit

Server Management Solution

Onboard ASMB9-iKVM for Out-of-Band Management
In-band ASUS Control Center Provides Efficient Centralized Management